Working in Russia makes it obligatory for any international company to conduct financial and tax accounting according to Russian standards.
Therefore, when establishing a branch office, a head office of a foreign company usually faces the task of determining the IT-landscape.
There are two main strategies:
To localize the existing corporate system
The head office of a foreign organization generally uses an ERP, EAM or a SCM-system. When localizing such a system, the company is sure to incur greater costs, while there arises the necessity of a dynamic software maintenance, because RAS (Russian Accounting Standards) are constantly changed and supplemented.
To integrate the company's corporate system with alternative software
We consider this choice the most advantageous one. We offer our clients the software solutions of 1C Company to form accounting reports according to RAS and corporate standards (IFRS, GAAP, PCG etc.) with further integration with the global system.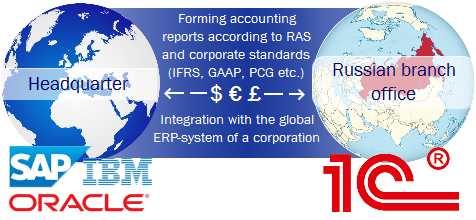 Five advantages of integration with 1C
Prompt and correct submission of accounting reports according to RAS
Frequent alterations in Russian legislation require introducing prompt changes into accounting system, and software solutions of foreign vendors require time and financial costs for system maintenance in compliance with Russian legislation.
Cost reduction for automation and further maintenance of IT-landscape of a Russian branch office
Usually, localization and further maintenance of a global system in Russia is more expensive than using 1C software.
Getting comprehensive information for decision-making
Prompt and detailed reports, reflecting all the aspects of the company's operations for its management.
Possibility to conduct parallel accounting according to RAS and IFRS
Many of 1C products have the respective module.
Different formats of data transmission
CSV, XLS, TXT, SAP IDoc etc.
How does this work?
Working on the projects on integration with 1C, we set two principal objects:
Loading transactions (supplies, sales etc.) from the corporate system into 1C for forming and submitting reports according to RAS
Loading posting journal from 1C into the corporate system for reports submission according to corporate standards.
What are our advantages?
We understand technical differences between 1C and other systems and we know the means to overcome any integration-related difficulties.
It's important! We know the methodological difference between Russian and international accounting standards.
We have great experience of working with clients from all over the world. We have complex expertise in this field.
Our Clients
| | | | | | | | | |
| --- | --- | --- | --- | --- | --- | --- | --- | --- |
| | | | | | | | | |
| Europe | | Japan | | Europe | | Korea | | Finland |